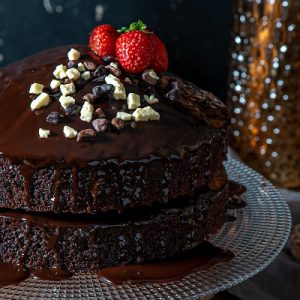 Prep time: 20 minutes
Cook time: 35 minutes
Serves: 8
Tip: This cake tastes best when prepared one day in advance. You can also place a thin layer of jam and fresh fruit between the cake layers as a tasty variation.
Ingredients
2 eggs
1 c white sugar
1 c light brown sugar
¾ c sour cream
½ c vegetable oil
¾ c water
¼ c whiskey
1 T pure vanilla extract
2 c all-purpose flour
¾ c cocoa powder
1 t baking powder
1 t baking soda
½ t salt
7 oz. bittersweet chocolate, chopped into chunks
Ganache

8 oz. semi-sweet chocolate, chopped
1 c canned coconut milk
2 T whiskey
1/16 t salt
Garnish
Chocolate or white chocolate shavings and/or fresh raspberries or strawberries.
Directions
Preheat the oven to 350 degrees F and spray two 8" round cake pans with baking spray and line them each with a piece of parchment paper.
Add eggs, white sugar, and brown sugar to a large bowl of an electric mixer and mix on low speed until combined. In another bowl combine sour cream, vegetable oil, water, whiskey, and vanilla extract until fully combined and smooth. Set aside.
In a large bowl sift together flour, cocoa, baking soda, baking powder and salt. Set aside.
Alternate folding dry ingredients and wet ingredients into the sugar mixture just until combined, taking care not to overmix the batter.
Finally, fold in the chunked bittersweet chocolate and pour the batter into the prepared cake pans. Place in the oven and bake until the cake is set and a toothpick inserted into the center comes out clean, around 33-38 minutes depending on your oven.
Cool in pans for 30 minutes then turn onto a cooling rack until completely cool.
While cake is cooling, place semi-sweet chocolate in a medium bowl.
Heat the coconut milk in the microwave or on the stovetop just until it boils. Remove from heat and pour over the chocolate.
Allow the mixture to sit for 2 minutes, then stir with a whisk until a smooth and glossy ganache forms. Add 2 T whiskey and salt. Continue whisking just until combined.
Once the cake is fully cooled to room temperature, spread a thin layer of ganache in between layers then frost the rest of the cake with the whiskey ganache. Sprinkle with chocolate shavings, white chocolate or berries on top, if desired, Enjoy!