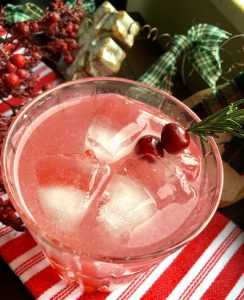 Traditionally, margaritas are considered a warm weather drink, but that doesn't mean you can't enjoy this delicious and popular cocktail all year long! This holiday-friendly version lends a festive twist with its bright splash of color and a fun, seasonal garnish.
Yield: 1 margarita
Total Prep Time: 5 minutes 
Ingredients
3 oz. tequila
2 oz. Cointreau (or other orange liqueur)
2 oz. cranberry juice
3 T. fresh lime juice
Garnish
fresh rosemary sprigs, bottom leaves removed, approximately 2-3" long
fresh cranberries
fresh lime wedges
Directions
To make cranberry sprig garnish, carefully thread 3 fresh cranberries onto tough rosemary stems. Set aside.
Fill cocktail shaker with ice and add tequila, Cointreau, and both juices. Shake well and strain into ice-filled glasses. Garnish with rosemary sprigs and lime wedges, if desired. Serve immediately.