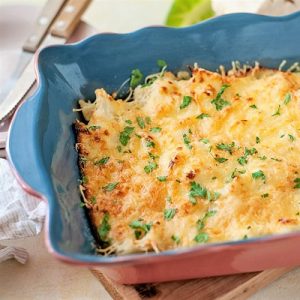 Prep time: 10 minutes
Cook time: 30 minutes
Serves: 4
Ingredients
1 t extra virgin olive oil
1 medium head cauliflower, broken into florets
2 T butter
2 T all-purpose flour
1 c milk
¼ c heavy cream
1-½ c fontina cheese, shredded
½ c parmesan cheese, shredded
½ c fresh Italian leaf parsley, chopped
salt and black pepper, to taste
Directions
Preheat the oven to 400 degrees F and grease a large casserole dish with olive oil.
Bring a large pot of salted water to a boil. Par-boil the cauliflower for 3 minutes. Drain and return to the warm pot to let the steam dry some of the moisture from the cauliflower. Gently pat dry to remove any remaining moisture.
Melt the butter in a medium skillet over medium heat. Sprinkle in the flour and cook, stirring constantly, for 2-3 minutes. This removes the raw taste from the flour.
Slowly pour in the milk and heavy cream and continue cooking 2-3 minutes or until the mixture thickens.
Turn off the heat and add fontina. Stir until the cheese is fully melted.
Place the cauliflower florets in the prepared casserole dish. Pour the fontina béchamel all over the cauliflower. Sprinkle with parmesan cheese and place in oven to bake 20 minutes or until nicely browned and bubbly on top.
Remove from the oven and sprinkle with fresh parsley. Enjoy!