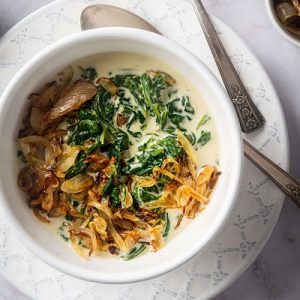 Prep time: 10 minutes
Cook time: 40 minutes
Serves: 4
Ingredients
2 T extra virgin olive oil
2 large onions, halved and thinly sliced
2 lbs. spinach, chopped
2 garlic cloves, minced
1 T butter
8 oz. cream cheese
½ c heavy cream
¼ c parmesan cheese, freshly grated
salt and black pepper, to taste
Directions
Heat olive oil in a large skillet over medium heat. Add onions and season with salt and pepper, to taste. Reduce heat and cook, stirring occasionally, until the onions become nicely golden brown and caramelized, approximately 30 minutes.
Transfer onions to a plate and set aside.
In the same skillet you used to caramelize the onions, add the garlic and the spinach, a few handfuls at a time, stirring to wilt to fit it all in the pan. Season with salt and pepper to taste. Cook, stirring occasionally, until the spinach is completely wilted and cooked down. Stir in butter, cream cheese, and heavy cream. Continue cooking until the cream cheese melts into the spinach and everything becomes nice and creamy.
Remove from heat and stir in the parmesan cheese. Taste and adjust seasonings.
Transfer the creamed spinach into a serving bowl and top with caramelized onions. Garnish with a little fresh chopped parsley for color and freshness. Enjoy!