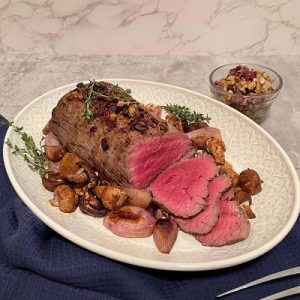 Prep time: 10 minutes
Cook time: Rare – 20 minutes, Medium Rare 24 minutes, Medium 26 minutes
Serves: 4
Important tip: To ensure a flavorful, juicy roast, remove beef from oven at least 5 degrees less than your desired final temperature as the beef will continue to cook during the resting period. This resting time also allows the meat juices to be reabsorbed into the meat fibers keeping it nice and juicy.
Ingredients
2 lb. beef tenderloin, cleaned and trimmed
8 oz. baby Portobello mushrooms, cleaned and trimmed
6-8 shallots, halved
1 T. olive oil
1 T. Dijon mustard
2 T. balsamic vinegar
2 T. olive tapenade
1 T. fresh thyme leaves, chopped
Sea salt and black pepper to taste
Directions
Preheat the oven to 475 degrees F and line a rimmed baking sheet with a piece of parchment paper.
Place the beef tenderloin in the center of the prepared baking sheet and arrange the halved shallots and mushrooms around the tenderloin. Season beef, mushrooms and shallots with salt and pepper to taste.
In a small bowl, add olive oil, Dijon, balsamic vinegar, olive tapenade, and thyme; whisk until smooth.
Spoon the olive tapenade down the center of the beef. Brush the balsamic mixture all over the beef, mushrooms and shallots. Place in the oven to roast until the beef is cooked to desired temperature, exactly 24 minutes for medium rare.
Remove from the oven and cover the beef lightly with a piece of aluminum foil and let it rest on counter for 15 minutes. Slice and serve warm, garnished with fresh thyme sprigs and additional tapenade if desired. Enjoy!