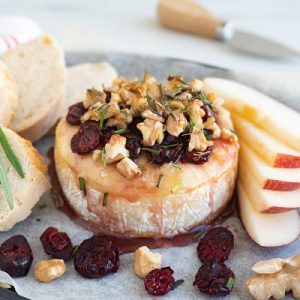 Prep time: 10 minutes
Cook time: 20 minutes
Serves: 4
Ingredients
8 oz. brie cheese wheel
¼ c. cranberry sauce (homemade or store-bought)
2 T. dried cranberries (Craisins)
½ c. walnuts, roughly chopped
1 T. honey, preferably local
2 rosemary sprigs
To serve:
1 French baguette, warmed and sliced on the diagonal
Fresh vegetables for dipping such as baby carrots, celery, cucumber rounds
Directions
Preheat the oven to 350 degrees F and line a rimmed baking sheet with a piece of parchment paper.
Place the brie on the prepared baking sheet and transfer it to the oven to bake for 10 minutes.
Remove brie from the oven, and using two forks, gently expose the creamy layer beneath the crusty top of the cheese. Spread the cranberry sauce on top of the cheese, followed by the dried cranberries and walnuts. Drizzle with honey and top with fresh rosemary.
Return brie in the oven and bake for another 5-10 minutes or until all the toppings are warm and the brie is heated to your desired temperature.
Serve the baked brie on a decorative platter alongside sliced baguette and vegetable dippers. Enjoy!