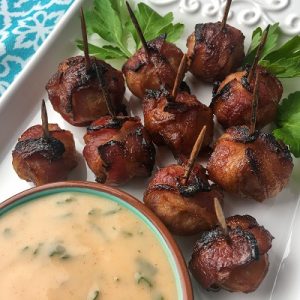 This tasty little appetizer is reminiscent of the classic Rumaki, minus the chicken livers and brown sugar. In this version, honey provides a touch of sweetness, while a spicy mustard dip adds some heat. Together, they create a winning combination that will soon become a new favorite!
Prep time: 30 minutes
Cook time: 30-35 minutes
Serves: 4-6 (approximately 24 appetizers)
Ingredients
8 strips center-cut bacon
1/3 c. gluten-free soy sauce
3 T. honey, preferably local
2 8-oz. can water chestnuts, rinsed and drained
¾ c. Greek yogurt
2½ T. Dijon mustard
1 T. hot sauce
¼ t. cayenne pepper
2 T. fresh parsley, roughly chopped
Sea salt and black pepper, to taste
Directions
Cut bacon strips in half lengthwise, then cut each thin strip into 3 equal sections for a total of 48 pieces. Set aside.
Mix soy sauce and honey in a medium mixing bowl. Add water chestnuts and turn to coat. Marinate at room temperature for approximately 30 minutes, turning water chestnuts 2-3 times during that time.
Preheat oven to 400°F and place a metal rack inside a large, rimmed baking sheet. Spray rack with non-stick cooking spray and set aside.
Drain water chestnuts, but reserve the marinade. Wrap each water chestnut with a piece of bacon, then repeat with a second strip on the opposite side. Secure both pieces of bacon with a toothpick and place on baking rack.
Repeat with remaining water chestnuts. Each appetizer with reserved marinade on all sides. Place prepared baking sheet in preheated oven for 20 minutes, then remove from oven and brush with more marinade before returning to oven for another 10-15 minutes.
While the water chestnuts are roasting, combine Greek yogurt, Dijon mustard, hot sauce, cayenne pepper, and parsley in a small bowl. Season salt and black pepper, to taste. Cover and place in the refrigerator until ready to serve.
When finished, remove the bacon-wrapped water chestnuts from the oven and serve immediately with the spicy mustard sauce for dipping. Enjoy!