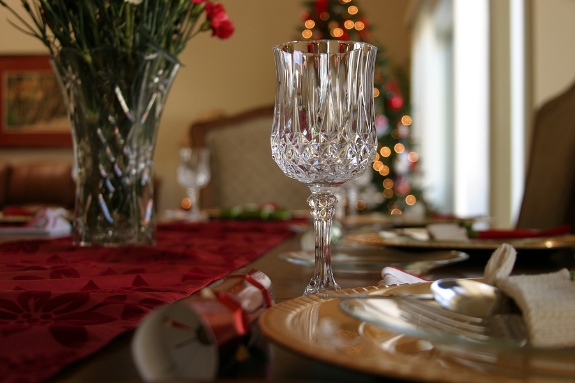 Christmas is not an ordinary day and Christmas Eve dinner or Christmas Day dinner is not an ordinary meal. It's one to be celebrated with the best of family and friends and with the best of foods. Don't serve the meal on plain dishes that you have around the house and don't serve this extraordinary food on dishes you can get anywhere.
You want to use dinnerware and decorations on your dinner table that show your effort, items that will make your table memorable. Why use crystal? Crystal, despite its name, is a very sturdy dinnerware, but more than everyday dishes, it has an elegance that deserves a class of its own.
If you can afford to set your entire table in crystal at once, then go ahead and do so, the beauty is stunning and gives the impression of opulence, almost like one is about to dine in a winter wonderland.
But if can't afford to set the table completely with crystal, then buy it a piece at a time until you have everything you need. Begin with place settings. You'll want to get these first.
You'll need enough place settings for yourself and every person who lives in the home. Then you'll need to figure how many guests you usually entertain at your Christmas meals.
After you have your place settings, then begin buying the glasses. Some of the pieces will cost you more but elegance is always worth the extra price you pay and crystal does retain its value. You'll want to get both glasses and flutes. When the settings and glassware have all been purchased, begin buying those extras that make a holiday table one of a kind.
Make sure you purchase a cake plate for those holiday deserts. You can find large crystal cake plates that are footed and well suited for large gatherings or you can find ones with a smaller diameter and height.
A tip for those cake plates is that you don't have to always serve cake on them. You can serve pies and other holiday treats as well. Many of the finest crystal cake plates are limited edition within their collections so you don't want to wait too long to get your dinnerware complete. You'll also need a crystal punch bowl and cup set for holding that special holiday punch recipe.
Holiday crystal doesn't just end with the dinnerware. There are also the table decorations to consider. Small, round crystal dishes are perfect for filling with Christmas ornaments or flower heads or candles floating in water. A crystal vase in the middle of the table can house those gorgeous Christmas poinsettias. This year, aim to deck your table out in fine crystal.